ABOUT SUE WOOKEY
After working in a job managing image collections in the Image Library business, Sue slowly began to realise what she was born to do; create art! In 2008 she founded Galley Hill Art and began to undertake as she put it herself the "rather daunting task" of making her very own giclee prints and cards. Her work itself is inspired by her own love of the natural world, dreams, myths, symbolism and interestingly Britain's megalithic past. A fascinating collection of genres and ideas which can be easily seen when you take a look through her broad collection of work!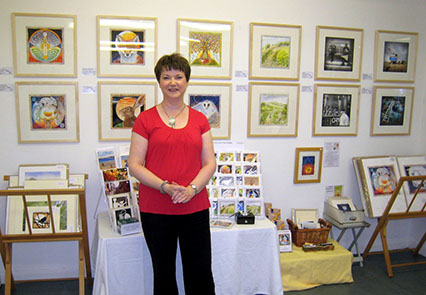 Sue Wookey at 'Artscape' in Harpenden. Pictures framed in wooden ready made picture frames
WHAT INSPIRES SUE?
Sue draws her inspiration from a combination of locations, cultures, ancient history, wildlife (a lot of wildlife in fact!) and artistic intricacies that shine through when observing her artwork. It's pretty obvious that Sue has a clear passion for the mystery of ancient cultures, (especially in Britain) and how art can help express the wonder that surrounds these peoples and their way of life. She also seems to be a bit of a J.R.R Tolkien fan, and has in fact a page dedicated to paintings she has produced relating to scenes from his work (we like Treebeard the best!).
Treebeard' - by Sue Wookey
HOW DOES SHE DO IT?
Sue likes to make use of a 'mixed media' of watercolours, gouache and ink to produce pieces of art that are simply bursting with colour. This combination of media also contributes towards the various patterns and shapes that often make appearances in her paintings. Sue firmly believes that it takes two people to make a painting; the artist and of course, the observer. We love the way that Sue also intertwines some of her poetry into some of her paintings by adding a border of words which definitely adds another level of meaning to her work, and provides an interesting bridge between poetry and painting.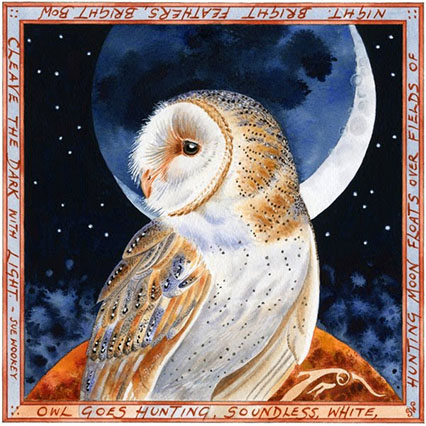 'Lunar Owl' - by Sue Wookey
PHOTOGRAPHY
Having spent such a long amount of time working within the photographic industry, Sue developed a very particular taste in photographic styles, especially black and white photography! Her style of photography (as seen here) focuses on juxtapositions, quirkiness and "sudden flashes where the ordinary looks quite extraordinary".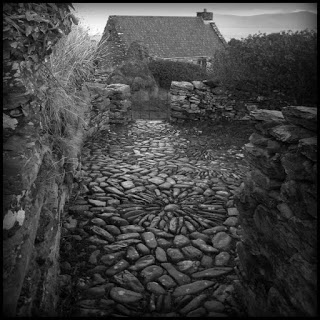 Cobbles' - Ireland
WHERE CAN I BUY SUE WOOKEY ARTWORK?
We'd advise liking Sue Wookey's Facebook page for the latest updates on her artwork and exhibitions; she posts regular updates along with some top imagery!
We absolutely love writing about artists and finding more about their work and inspiration; especially ones who love our picture frames and mounts! If you'd be interested in appearing the Best4Frames blog, get in touch with us at blog@best4frames.co.uk