"Everything is beautiful. Pop is everything."
-Andy Warhol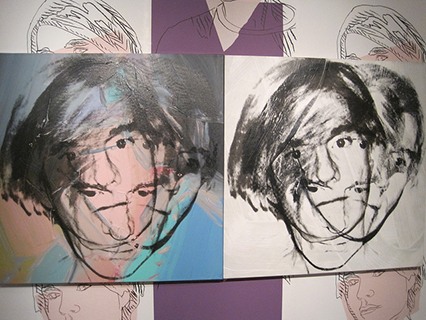 Andy Warhol trying to figure himself out. CC Image courtesy of Kim on Flickr
Let's begin by introducing this brand new feature in the Best4Frames blog; 'Art in Focus'. In this feature we'll take a deeper look into a piece of art, photography, an artist or photographer and try to figure out what actually makes it, them, she or he stand out from the rest.
You'll have the chance to find out a bit more about the art in question, and maybe some more unusual things you might not have found out elsewhere!
ANDY WARHOL MARILYN DIPTYCH - WHAT IS IT?
Following the tragic death of Marilyn Monroe in 1962, world-famous Pop-artist Andy Warhol (born Andrew Warhola) decided to create a series of silkscreens of the late cultural icon using the exact same publicity shot from 1953 film Niagara. Currently owned by Tate, who acquired the original silkscreen in 1980, 'Marilyn Diptych' and the variants of it are an example of one of the most widely-known Andy Warhol pieces, achieving global critical acclaim.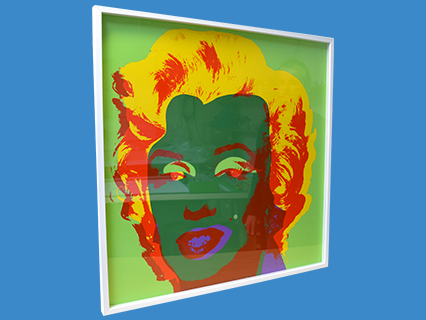 Our framed piece (in a white Choice frame) is just one of ten screen-prints that were created in 1967, five years after the original silkscreen paintings from 1962.
WHAT INSPIRED ANDY WARHOL?
Warhol is seen as a bit of a pioneer in the field of Pop-art (yes, that's an understatement!). He stands out due to his innate talent for raising questions on how reality, and in particular the most profound elements of the human life, can be expressed through art.
Andy Warhol's cultural relevance and impact reached a zenith at a time where the items of power, money, sex and death all featured in popular culture to a greater extent than they arguably ever had done before. The imagery that he chose to achieve what he did artistically often grasped these elements with a simple, but striking effect.
Andy Warhol self-portrait, 1986. CC Image courtesy of Andrew Russeth on Flickr
It's often said that Marilyn Monroe was pretty much an ideal subject of inspiration to Warhol, fitting perfectly with the ever-present themes on 'celebrity' and 'death' often found in his work.
The repetition of her image in the original is said to represent her omnipresent relationship with the media at the time, as well as a nod to her career in film (the straight lines of squares maybe representing an old fashioned strip of film). The stark contrast of the bright, vibrant colours opposed to the fading black and white images in the original work provide a stark juxtaposition between the life of the celebrity, and her untimely passing.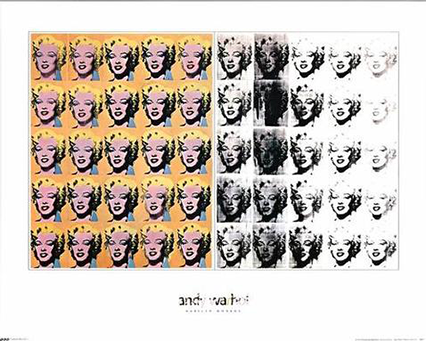 In Marilyn Diptych - 1962 Andy Warhol makes us think about the expanding influence of the mass media in our lives. CC Image courtesy of Ky on Flickr.
A lot of people also think that Warhol's choice of the 'diptych' format is also a subtle reference to the idea that celebrities at the time (and indeed now!) are treated with a certain level of divinity (originally, the diptych style was used in Christian artwork of saints).
Creating imagery of everyday people or objects (see Campbell's Soup) in this way obscured the traditional differences between fine art and popular culture; making Andy Warhol an instant cultural hit.
WHAT IS 'POP-ART' ANYWAY?
What actually is 'Pop art' ? Well, it's essentially an art movement that came into prominence in the 1950s, which challenges traditional forms of art by introducing symbolism and imagery originating from popular culture. In London in 1952, a group of young artists, sculptors, writers and general critics who attempted to oppose the predominant traditionalist ideals of fine art, formed 'The Independent Group'.
The group often debated about how modernism should be re-considered, and are often quoted as creating the 'found object' art form (i.e. the use of everyday objects that wouldn't traditionally be considered 'art' as they already have an independent function).
'Campbell's Soup' CC Image courtesy of Ines Hegedus-Garcia on Flickr
Often seen as an art genre that directly contrasts, and even parodies more traditional forms of art, Pop art uses elements of media culture ranging from comics (Roy Lichtenstein), advertising and even everyday 'humdrum' objects. Pop art puts forward the idea that culture itself has no real hierarchy, and so art or artists can loan ideas, imagery and symbolism from anywhere they like.
Having said this though, it's actually quite a well-debated topic as to whether Pop art supports, condones or is using parody to dismiss popular culture and the modern world and/or materialism. We'll let you make up your own mind on that one!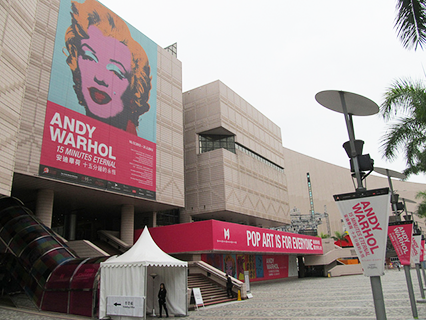 Hong Kong Museum of Art. CC Image courtesy of Tracy Hunter on Flickr
SO HOW DID HE DO IT?
'Screen-printing' or 'Silkscreening' is a kind of stencil technique, usually carried out by hand that involves using a kind of mesh that supports an ink-blocking stencil stretched over a frame. This then creates the desired image when certain substances are applied.
The open areas within the stencil itself allow transferable substances (usually some kind of ink) to be pressed through the mesh with a straight-edged object or 'squeegee'. There are a wide range of materials that can be used with screen-printing such as: cloth/textiles, paper, vinyl, wood and basically anything you can think of, or of course would be practical to use.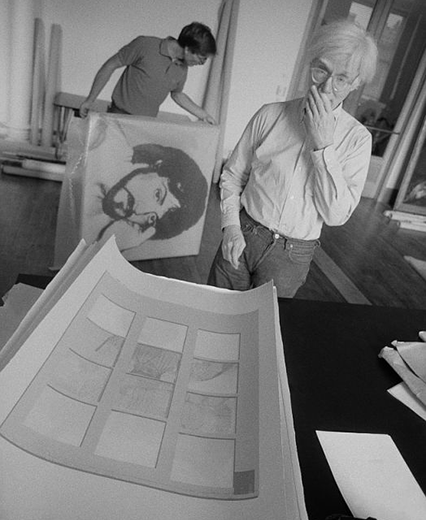 Andy Warhol working in The Factory in 1980. CC Image courtesy of Sebarts on Wikipedia
Only one individual colour is produced each time the substance is pressed against the stencil, so Andy Warhol used several screens in his Marilyn Monroe works to create the eye-popping colour combinations we see.
​
WE BET YOU DIDN'T KNOW THIS…
Prior to contrary belief, Andy Warhol actually had a 'wife', although not the kind you'd initially expect! At one time in his career, Warhol took a tape recorder everywhere he went to capture the many conversations he had with some fascinating people at the time. It featured so regularly with his appearances in public that he simply referred to it as his 'wife'.
For a huge collection (one of the best available online) of Andy Warhol images and even more information about the artist, check out https://www.artsy.net/artist/andy-warhol
---
Are you a fan of Andy Warhol? Do you own any of his Pop Art? Get involved and leave a comment below - we'd love to know your thoughts! - B4F