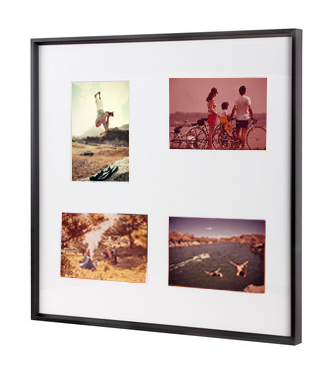 ​

It's that time of the year again where a lot of us are facing the inevitable 'post-holiday blues'. As autumn approaches, why not put those holiday snaps you took this summer in a special place? If you're in two minds about whether or not to get your favourite photos framed, we've created this list that we hope will change your mind!
1. Style
Framing those photographs will give them an immediate extra touch of quality. A photo frame with a mount included is a great place to start. The standard cut-out sizes of this type of photo frame are created specifically for all the popular photo sizes (i.e. with a slight overlap over your photograph to ensure it doesn't fall through the opening). The mount board also creates a smart, professional level of whitespace surround your snaps, which gives your photos a nice amount of 'breathing space'.
2. Keep them safe
When left around for a long period of time, photographs can get bent, ripped or will in some cases begin to curl up if left to their own devices! Keep them safe in a ready made photo frame.
3. Make your memories last
It's difficult not to smile to yourself when thinking of good memories, especially from the summer holiday season! Make your memories last by putting your favourites into photo frames, and then hang them anywhere in the home.
4. Decoration!
Have you just moved into a new home? Are you looking for a way to add a touch of personality to your decor? Put your holiday photographs in pride of place in a photo frame and instantly make your new place feel more homely!
5. Produce a talking point
Did you visit anywhere of interest this summer? Show off the story of your epic adventure, cultural trip or city break in style. A perfect conversation starter for your visitors!
6. A perfect present for a relative
If you're struggling to think of a birthday present for a family member or relative, a collection of framed photos from a recent holiday together could be the perfect gift. Bring a smile to their face with a collection of framed family holiday photos.
7. Room for all the family
Absolutely perfect if you have more than one photograph that you'd like to frame. Multi-aperture photo frames are the best bet here, giving you the ability to frame multiple photographs in one stylish frame.
8. Feed your nostalgia
A great idea if you have a collection of photographs lying around from yesteryear! Feed your nostalgia by framing old holiday photographs and displaying them in the home.
9. There's no school like the old school...
There's certainly something timeless about framed photographs. Even in an age absolutely packed with all things digital, framing photographs in the old sense is truly the 'classic' way of doing things.
10. Our huge selection!
Finally we have a little bit of shameless self-promotion! Our selection of Nielsen frames in the multi-aperture gallery style lets you create your own gallery of photos from your holiday. With a range of different styles, colours, sizes, and mount board openings we've sure to have something to suit your snaps. If you still can't find exactly what you're looking for, get in touch via email (sales@best4frames.co.uk) – we can produce mount board to custom requirements for a range of exotic cut-out shapes and sizes!